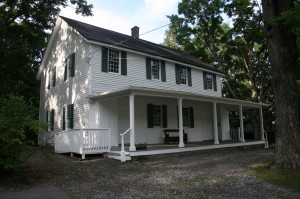 Cornwall Monthly Meeting convenes for unprogrammed worship every Sunday at 10:30 a.m.  Child care and religious education for older children are available during our silent worship.  For more information about the nature of Quaker worship as practiced by our Meeting, please click here.  For a short film for those visiting an unprogrammed Quaker Meeting for the first time, please click here.
Announcements and News:
Cornwall Meetings Peace and Social Action Committee has raised concerns about the events taking place in the Standing Rock Reservation in North Dakota.  Those concerned with environmental degradation and respect for Native Americans are encouraged to refer to information available here and elsewhere, and take action.  Some Cornwall Friends participated in a Solidarity March at the Army Corps of Engineers District Office in New York City on Tuesday, November 15, 2016.
The Cornwall Historical Society conducted its meeting at Cornwall Friends Meetinghouse on September 26, 2016.  Speakers from the Quaker Meeting presented information on the past intimate relationship between the Sands-Ring home and the Meetinghouse; the contribution Quakers have made to the life and growth of Cornwall; and the current and future activities of the Religious Society of Friends in the region.  More information about the Historical Society is available here.
Historic Smith Clove Meetinghouse opened its doors on Sunday August 28 for our annual worship.  The Meetinghouse is a valued preservation of early 19th century religious practice.  Worship was conducted from 11:00 to Noon, and visitors came early and stayed later to enjoy homemade ice cream and fellowship.  More information on Smith Clove, including directions, is available here.
Cornwall Meeting participated in the re-opening of the historic Sands-Ring Homestead in Cornwall on Saturday July 2.  That 1760 building hosted the first Quaker worship in Cornwall, involving a group that grew to such a point that the current site of the Cornwall Friends Meeting was purchased and the current building constructed — making it the oldest house of worship in Cornwall.  The first marriage ceremony in the 1791 Meetinghouse was between Catherine Sands and Elias Ring.  More information on the establishment of Cornwall Monthly Meeting and our close relationship with the Sands and Ring families is available here.
Our Yearly Meeting convened its 321st Annual Sessions at Silver Bay, New York starting Sunday, July 24 and ending Saturday, July 30.  It was the major event of the Yearly Meeting and several Cornwall Friends were among the hundreds of Quakers in attendance.  More information on the New York Yearly Meeting may be found here.
Cornwall Meeting participated in the "Sacred Sites" event coordinated by the New York Conservancy by being open for visitors from Noon to 3:00 pm on Sunday May 22.  Several visitors were welcomed.
Our Fellowship