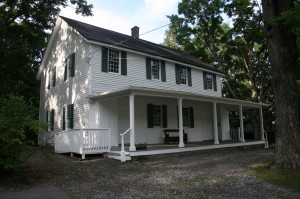 Cornwall Monthly Meeting convenes for unprogrammed worship every Sunday at 10:30 a.m.  Child care and religious education for older children are available during our silent worship.  For more information about the nature of Quaker worship as practiced by our Meeting, please click here.  For a short film for those visiting an unprogrammed Quaker Meeting for the first time, please click here.
Announcements and News:
Nine Partners Quarterly Meeting will gather at Cornwall Meeting on Sunday, August 7.  The event will involves Monthly Meetings from New Paltz, Poughkeepsie, Catskill, and Bull's-Head.  Worship will be from 10:30 to 11:30, followed by a brown bag lunch and an informative program on resources available to monthly meetings through our Yearly Meeting.
Historic Smith Clove Meetinghouse will open its doors on Sunday August 28 for our annual worship.  The Meetinghouse is a valued preservation of early 19th century religious practice.  Worship will be conducted from 11:00 to Noon, and visitors are welcome to come early and stay later.  More information on Smith Clove, including directions, is available here.
Cornwall Meeting participated in the re-opening of the historic Sands-Ring Homestead in Cornwall on Saturday July 2.  That 1760 building hosted the first Quaker worship in Cornwall, involving a group that grew to such a point that the current site of the Cornwall Friends Meeting was purchased and the current building constructed — making it the oldest house of worship in Cornwall.  The first marriage ceremony in the 1791 Meetinghouse was between Catherine Sands and Elias Ring.  More information on the establishment of Cornwall Monthly Meeting and our close relationship with the Sands and Ring families is available here.
Our Yearly Meeting convened its 321st Annual Sessions at Silver Bay, New York starting Sunday, July 24 and ending Saturday, July 30.  It was the major event of the Yearly Meeting and several Cornwall Friends were among the hundreds of Quakers in attendance.
Cornwall Meeting participated in the "Sacred Sites" event coordinated by the New York Conservancy by being open for visitors from Noon to 3:00 pm on Sunday May 22.  Several visitors were welcomed.
Our Fellowship